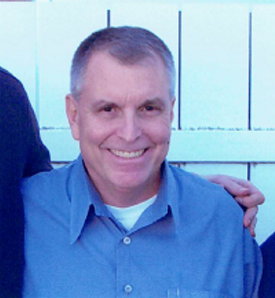 In spring of 2005, my life was "perfect", or so I thought. On May 25, 2005 all of that changed. I found myself battling a local newspaper determined to destroy me and a very partisan legal battle over my management of a multi-million dollar rare coin fund. There were many times from May of 2005 to my November, 2006 trial that I felt depressed, alone and very helpless. The stress, at times, seemed unmanageable. I stopped exercising and began to eat and drink way too much. After pleading guilty in September, 2006 in federal court to a campaign finance violation with a sentence of 27 months in prison and being found guilty in November, 2006 in state court with a sentence totaling 18 more years in prison, I felt like my life was quickly coming to an end. As I begin my 8th year in prison, I can honestly say that nothing could be further from the truth. I truly feel like my life is just beginning.
Before you all refer me to psychological services, let me take you on my journey and explain. In the Federal prison system, they try to place you 550 miles or less from your home. Since my legal residence in 2006 was the Florida Keys, my journey took me from Lucas County jail (Toledo, OH) to prisons in Milan, MI; Oklahoma City, OK; Atlanta, GA; Edgefield, SC; back to Atlanta, GA and finally to Coleman, FL with a stop on "Conair" in Miami and Tampa. All this occurred in less than six months! Let me preface the following by telling you that I considered myself a good Catholic and I have always tried to be a good Christian to my fellow man. What I quickly discovered is that I still had (and still have) work to do to be right with God. I have also found out that God DOES answer our prayers, even if He seems a little slow on the uptick sometimes! My first major "God moment" happened in April 2007 while I was in Edgefield, SC. I was transferred to H-Block (24-7 lockdown), better known as the "hole." I was in administrative custody because the Feds had me in "minimum" security prison instead of a "low" security prison because of my detainer from the Ohio state authorities. Being asthmatic since age eight and diagnosed as "depressed" I was on many drugs to control these issues. I was placed in the "hole" on Thursday with the promise of my drugs catching up to be by Friday. On Saturday afternoon and still without my meds, because of the stress of the situation (better known as the "unknown"), I went into a full blown meltdown and was having serious breathing issues. I remember it like yesterday: God and I were having a very intense conversation, when I finally said, "God, please help me breathe." Within 10 minutes I was over the stainless steel toilet spewing phlegm (sorry for the visual) at an alarming rate. My poor cellmate, who spoke no English, thought I was possessed! Within 15 minutes my lungs were completely clear and I felt almost 100 percent. Suffice it to say that God really had my attention now. By the time Monday arrived along with my long overdue meds, I had made a decision: More God, less meds!
When I finally arrived at my final Federal destination in Coleman, FL in May of 2006, I had made a decision: lose 50 pounds and try to make the best of my situation. I started exercising more, eating less (except for visits!) and became very active in prison ministry. I began reading more and cantored weekly mass and attended a Tuesday and Friday night movie and prayer group. I was off of all the psych meds and was only on a preventative asthma inhaler and had a rescue inhaler, if needed. In the short time (18 months) at Coleman I lost 30 pounds and my spiritual journey became a priority. I must inject here that I had (and still have) more outside support of family and friends than I ever thought possible.
My journey in the Ohio prison system began in October of 2008. After a short stay at Corrections Reception Center (CRC) I was transferred to Hocking Correctional Facility where I have resided since December of 2008. Little did I know that I was in for a culture shock. The average age here is 67.5 years old and the majority of the inmates here are sex offenders of some kind. We also have numerous guys serving life sentences for murder with a chance of parole. In other words, quite a difference than I had experienced at Coleman where the population was younger and most of the guys had drug offenses of some kind. Just as I was getting settled and feeling better, my wife informed me that she wanted a divorce after 16 years of marriage. In July of 2009, I was now a 55 year old single guy. I was devastated, hurt, angry and alone. It brought back anger about my original case and the people who I felt had betrayed me. I was in a general funk again. Luckily, my spiritual life was getting stronger and after much prayer, in October, 2009, I was selected to participate in a three day Kairos Retreat with 23 other inmates. Twenty-five guys from the outside came into the prison to serve on the Kairos team and they changed my life forever. My sponsor was a retired accountant from Wendy's and I was befriended by a retired priest who listened and counseled me for hours over that weekend. God once again answered my prayers. I still attend weekly "prayer and share" Kairos meetings every Tuesday and sing in the group that leads everyone in song as well as at the semi-annual Kairos Retreat weekends. I began writing a bimonthly update of my journey by email. The list began with 100 people and now goes to over 300. My sister, Beth, with an assist from my future wife, Leigh, transcribes my scribbles and emails the updates. I refer to Beth, Leigh, and my daughters, Allison and Melissa, as "Tommy's angels."
Just when I was on a nice even keel my mother passed away in July of 2011. Handling death is difficult enough but being in prison magnifies the pain. I used my mom's mantra, "Let go and let God" and prayed that He would bless her soul and help me with my loss.
Through all of this, I have sensed God leading me and I have found greater and greater peace.
Do I have bad days? Absolutely. The difference is I now have God and I am growing closer to Him with each passing day. In addition, I have so many others that lift me up whenever I'm down. I have a wonderful future to look forward to: numerous job offers in the coin business, a future wife whom I love dearly, amazing sister, daughters, sons-in-law, grandkids and more wonderful family and friends than I deserve. My case is currently on appeal in Federal Court and my future in prison is uncertain. As I tell people, I had to come to prison to find true freedom; the freedom that comes from faith, journey and finally learning how to "Let go and let God." My mom was right all along! J By the way, I did lose that 50 pounds and haven't used my rescue inhaler in 18 months. As I approach my 60th birthday in July, I have never felt better mentally, physically and spiritually. God is good…all the time. Thanks for letting me share my journey.
Tom Noe